The Broken Bayonets are a group of wargamers based in Kuala Lumpur, Malaysia. We are involved with many aspects and genres of wargames and roleplaying games, having many years of experience between us.
Members:
SK - Scott "Shinobi" Kirby
DK - David "Saflex" Khoo
CE - Chua "Art of Wargames"
FS - Francis "Wolf" See
JC - John Chung
KJ - Kian "Archgrandmaster" Jin
YA - Yassine "Plastermaster" Amraoui
If you're interested in starting wargaming as a hobby, or you're not aware of what wargaming can offer you and would like to know more, please follow the link below for a short explanation.
Wargaming: A short description of the hobby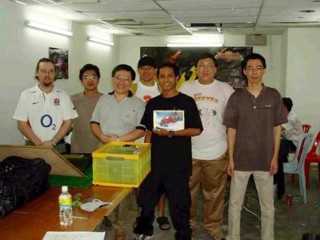 BB Guys (from the left):
Scott, Mike & Boon (NapNuts), Chua (hiding at the rear - Spartan!), Wolf (happy coz he's just won the 1st Malaysian DBA Tournament), Dave, Kian Jin.
This site is our way of contributing to the gaming community. Here you will find articles on gaming, pictures of games and figures, links to our favourite websites and companies, battle reports and much more.
We hope that our website will be of use to visitors.
Welcome. Take time to look around and enjoy what you may find.
Cheers,
Broken Bayonets Gaming Group